I am so excited to be here and be able to share one of my most favorite websites! Now, I know we all love and obsess over our digital scrapbooking pages, but we can't forget our photos! They are the reason we show off our pages and how we capture the moments to remember!
So without further ado... my favorite photography website is:
MCP Actions
!
MCP Actions is my home for any actions and photo treatments that I use for my layouts! They are awesome! There are so many you can choose from, and a few freebies that the owner, Jodie Friedman, gives away on the site! Some will cost you some moola, but in my own personal opinion, they are so worth it! They can really change the picture, and make it so much more than what I had to start with! Plus, any operator related photo problem seems to be fixable when I use the various actions!
Here is the link to all of her freebies:
Free Actions
. There are many for Photoshop, but a lot for Phostoshop Elements too! My most favorite freebie is the - The Take Action on Cancer Awareness Action:
It can really dress up your photo or change the tone of the pictures to match your layouts! Perfect coloring and completely able Here is a direct click:
Free MCP Action for Cancer Awareness
. This set is so cool... and I used it on my layout with the most recent kit:
Book Worm!
Here is a thumbnail to my layout, just click it to make it a little bigger: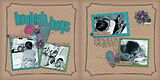 I use a product from MCP that goes by the name of :
All in the Details
! This fab set really has a lot to offer, and then when you mix actions and more actions.... you have so many possibilities! It really can help in making the best photos for your memories!
Hope you enjoyed this post with me! I enjoyed sharing one of my favorites with you! Leave a comment and link to your MCP Photo Actions; I would love to see them!
I originally created this blog post for Geek Chic Scraps: Here!